Schalke's Kyriakos Papadopoulos: Greece's bright light in somewhat dark times
September 29th, 2010 | by: Chris Paraskevas |

Comments Off
I had a fascinating chat the other day with a gentleman who once played for Aris and now resides in Sydney, after returning from Greece a few years ago to play in Australia before eventually ending his football career.
He's a somewhat familiar face for all of you Greece fans who followed the national team closely in South Africa this year: usually he had his shirt off and was banging rhythmically on the drum at the heart of the Greek support during the matches against South Korea, Nigeria and Argentina.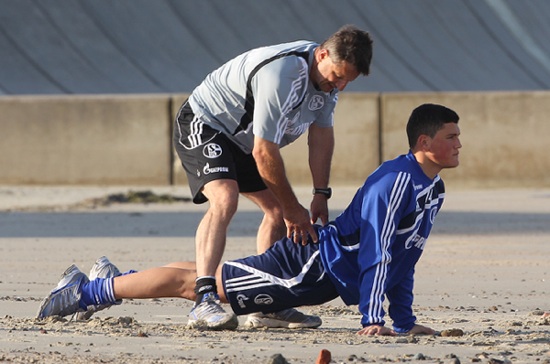 Schalke's training techniques are certainly working…
The fact that Giourkas Seitaridis asked this guy's brother to flex whilst he was in the crowd for one of the matches (clearly the Panathinaikos player was focused on the task at hand) before tossing him a jersey, is a wonderful story but not the pertinent one.
Where the conversation got really interesting was when we started to speak about the state of the Greek national team under Santos and the conspicuous disharmony before that disastrous Korea match.
Clearly there are issues within the playing squad at the moment with some big egos causing problems, most likely in the form of the detestable Kostas Katsouranis, who has surely been mentioned in negative light in virtually every post made in this blog by yours truely.
We both agreed that Fernando Santos probably isn't the man to succeed Otto Rehhagel, considering the manner in which the German rooted out the traditional Greek phenomenon of in-fighting and politics.
With the sudden retirements of key men Theofanis Gekas, Ioannis Amanatidis and Sotiris Kyrgiakos as well as the relatively poor start to the Euro 2012 qualifying campaign, these are slightly dark times for the national team.
However, upon waking up this…afternoon…I stumbled across the name of Kyriakos Papadopoulos in Goal.com's UEFA Champions League player ratings – a guilty pleasure of just about everybody who doesn't bother to watch the matches.
The former Olympiakos man and Greek youth international has been around for a little while but I must admit that I'm slipping at my old age, seeing as how his move to the Bundesliga escaped me.
Schalke are very much a team in crisis but according to reports such as this one (use Google Translate to confirm it) the 18 year-old produced a man-of-the-match performance against Benfica this evening as the Germans scored a 2-0 win, outshining his rather more experienced defensive partner Christoph Metzelder.
From what I understand he's likely to return to the bench as Felix Magath's first-team options return in central defence but performances like this won't hurt his standing at the club, nor with Santos, who probably should give him a serious look ahead of the crunch qualifiers against Latvia and Israel in just over a week.
Subscribe

Greece World Cup Blog RSS Feed

Share
Comments are closed