POL 1-1 GRE: Greek Stumble in Warsaw
June 9th, 2012 | by: nick |

Comments Off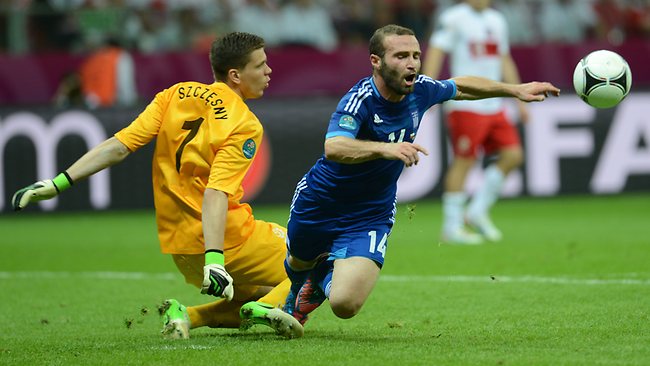 The opening day of Euro 2012 proved disappointing as Greece put on an uninspiring performance against co-hosts Poland. The match was also tarnished by extremely inadequate and inconsistent arbitration by match official Carlos Velasco Carballo. Poland started the match playing down the flanks with Robert Lewandowski the intended target. The Dortmund striker found the net in the upper corner but Greece responded well in the second half despite playing with ten men. Salpingidis was on hand to score after a blunder by Wojciech Szczęsny and Karagounis, who could have won it, squandered the three points with a poor penalty kick.
Lineup and Formation
There were no surprises with the 4-3-3 lineup that Santos put on the field, but this game did reveal that some changes need to be made. The first half was not very good as Greece were mostly on the back burner; however the formation worked very well in the second half with more attacking play. In front of the usual back line (Torosidis, RB; Sokratis, CB; Avraam, CB; Holebas, LB) the midfield trio of Karagounis, Katsouranis, and Maniatis was very slow to operate and did little to starve Lewandowski of service.
As predicted in my previous post, the Polish 4-2-3-1 formation performed better than the Greek 4-3-3. The game speaks for itself but to put it out there, Gekas' ineffectiveness up front forced Salpingidis and Samaras move towards the center and leave the wings unoccupied. Polish wingers Jakub Błaszczykowski and Maciej Rybus were then free to occupy the flanks with the help of their fullbacks.
Arbitration
The officiating in this match was very questionable on the part of Carlos Velasco Carballo. His red card to Sokratis Papastathopoulos on the first foul appeared to be for a legitimate header which was being properly challenged. The second foul was apparently given for a collision based on inertia as his hands hit his opponent. Even Szczęsny's foul on Salpingidis, which was an undoubtable penalty, was a questionable red card.
Best Moment
Minute 67: Kostas Fortounis shows his creative playmaking skills as he feeds a short pass from Samaras to Dimitri Salpingidis with a perfectly timed lob over the Polish back line.
Worst Moment
Minute 68: Giorgos Karagounis takes a penalty after making every indication that he will be shooting to the right. The only thing he had left to do was to walk up and tell Przemysław Tytoń he plans to aim for the lower right corner.
Impact Players
Georgios Samaras: Samaras simply was the most active on the field today. Despite a better second half, he single handily led the attack.
Lets hope Fernando Santos takes a good look at his drawing board before facing the Czech Republic on Tuesday.
Subscribe

Greece World Cup Blog RSS Feed

Share
Comments are closed