Greece – Nigeria: Let's Make History
June 15th, 2010 | by: Chris Paraskevas |

View Comments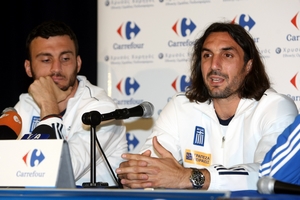 My state of extreme pessimism now passed, I'll adopt a slightly more cheerful tone ahead of what is the biggest World Cup match in this Greece's short history at the tournament in just under 48 hours time against Nigeria.
Have sympathy for me after a weekend in which I stayed awake till 9am trekking into Sydney's harbour to attempt to drown my Grecian sorrows with what I hoped against reality would be a stirring first-up performance by the Socceroos against Germany; as most of you probably already know it was a rather sobering experience and Australia probably weren't much better than Rehhagel's men before them.
In any case, Greece have 90 minutes to make history with a first goal/point/win/respectable performance in their fifth ever World Cup match and the closer we get to kick-off, the more optimistic I force myself to get despite the reports from my insider near the Greece camp of a bust-up before the Korea game (indeed, fellow Greece World Cup blogger Peter Katsiris pointed out after a brave second viewing of the match that he saw Alexandros Tzorvas and Loukas Vyntra arguing in the tunnel as the teams walked out before kick-off).
The one mention of a potential line-up I've read in all the pre-match reports is suggesting Rehhagel will revert to a 3-4-3 formation with Vangelis Moras, Sokratis Papastathopoulos and – belatedly – Sotiris Kyrgiakos the reinstated back-line. Unfortunately the name Loukas Vyntra popped up, though he'll reside down the right flank where the damage he'll potentially do will be rather more minimal (just how he justifies a starting place ahead of Giourkas Seitaridis is beyond me, though). Samaras, Salpingidis – who gave us a fighting chance after coming off the bench in the opening match – and Gekas will lead the line.
Having watched the Nigeria-Argentina match straight after the debacle against Korea and with regard to our reported line-up, I can honestly say that there's a very, very realistic chance of two victories assuming any personality clashes have been smoothed out within the camp. Organization will be key against the Africans – who are typically flexible in attack but reliant on goalkeeper Vincent Enyeama – and the South Americans, who are reliant only on Lionel Messi.
The good news is that Sotiris Kyrgiakos has appeared in public to play down suggestions of a rift after being bizarrely overlooked for the first match, a selection that was supposedly at the heart of the troubles in the Greek camp. And whilst his comments are likely nothing more than damage control they are at least suggestive that the situation is recoverable. A united front will be crucial over the coming days.
Kyrgiakos comments:
"The climate is very good between us [the players]. We're upset that we lost the first game. But we must try all together both psychologically and playing-wise to be 100% ready. You always have to believe in a dream. We lost one match. We're not finished yet.
"Never in football have I taken anything for granted. I know nothing about the other issue [perhaps answering a question about the reported rift in the change room]. I can never deny anything my coach asks of me. All footballers want to play. The biggest disappointment is that my team lost."
Subscribe

Greece World Cup Blog RSS Feed

Share
blog comments powered by Disqus