GEO 1-2 GRE: Greek Comeback Seals Euro 2012 Spot
October 11th, 2011 | by: nick |

Comments Off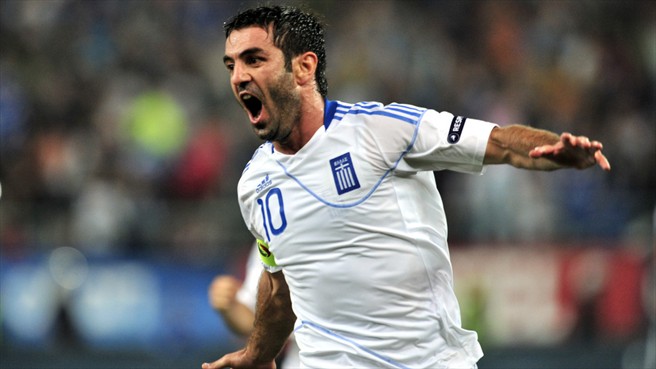 After a tense 90 minutes, Greece finally booked their Euro 2012 ticket in Poland and Ukraine with a 2-1 comeback victory over Georgia in Tbilisi. Greece top Group F with 24 points amassed from seven wins and three draws. Croatia, who defeated Latvia 2-0 today, finish second with 22 points from seven wins, one draw, and two losses. Fernando Santo's will have quite a bit to celebrate after finishing this campaign undefeated.
Greece
Greece began the game in a very lackluster fashion with Georgia mounting several attacks in the first half hour. Most of the Greek squad were in their own half of the field with only Gekas lurking somewhere near the center circle. As predicted Santos decided to go with a Rehhagel style 4-3-3 formation with Salpingidis, Gekas, and Charisteas up front. In addition to the suspensions of Samaras, Zaradoukis, and Avraam Papadopoulos, Santos also lost Torodsidis to injury on Friday against Croatia. The three strikers did little up front as Georgia found themselves ahead after twenty minutes when Targamadze's free kick went into the net untouched. The game evened out with Greece making an increased presence in the Georgian half but the underperforming Fanis Gekas could only misfire.
Georgia's fighting spirit (which I predicted in the preview to this match) kept them in the lead most of the second half. Even more so, Georgia's manger Temuri Ketsbaia made three relatively early changes with twenty five minutes left to play. Greece's ascent in the match started when Karagounis accidentally clipped Targamadze and Georgia were forced to play with ten men. Santos reacted instinctively to bring on Fotakis and Athanasiadis for Tziolis and Salpingidis. This proved to be game turning as Greece immediately sparked to life and went on the offensive. Fotakis performed brilliantly on the rightwing by finding space outside the Georgian penalty box and firing a volley which deflected into the net. Georgia then crumbled as Katsouranis then found Charisteas unmarked on the left wing to give Greece the lead.
If Greece showed anything today, it was in the last fifteen minutes of the game. Fotakis and Athanasiadis should have undoubtedly been starters. Greece probably would not have been in a predicament for 79 minutes to begin with. This game is another testament to phase in newer, younger, and more agile players into the main squad as starters, not benchwarmers. Santos should definitely look at this game when finalizing his squad and tactics for the final tournament. Greece now have a series of friendlies before the tournament and Santos will probably take every opportunity experiment with the squad.
Georgia
Temuri Ketsbaia's side came into the match with no pressure and nothing to lose. Already eliminated, they came out to play on the field for themselves and their fans. They certainly deserve some credit as they held Greece behind for so long.
Georgia 1-2 Greece
Goals: Targamadze 19, Fotakis 79, Charisteas 85
Subscribe

Greece World Cup Blog RSS Feed

Share
Comments are closed