Euro 2012 qualifiers around the corner for Fernando Santos' Greece
August 24th, 2010 | by: Chris Paraskevas |

Comments Off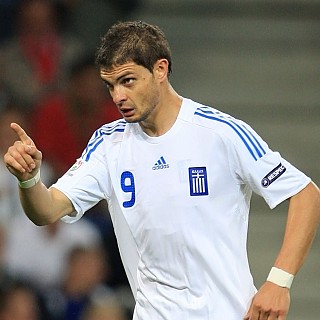 It's incredible that there's barely a week before the Ethniki's first two Euro 2012 qualifiers and Fernando Santos' first competitive matches in charge – how in the world these massive matches managed to sneak up on me I'll never know and hopefully the Portuguese manager is rather more prepared that this slightly ashamed blogger, who hasn't given the future of the Greek national team much thought in recent times.
Still, I'm here to tell you that the big surprises in Santos' foreign contingent to be called up to the squad are Angelos Charisteas – yes, him, despite the fact it seemed his international career had thankfully ended when he wasn't called up for the recent friendly match against Serbia – and Brescia's Panagiotis Kone, who showed flashes of brilliance at Iraklis but had surely fallen off most people's radar after his recent move to Italy? Or perhaps I'm just slipping at my old age…
So Charisteas is back no doubt to the groans of most of you out there, after he secured himself a move to recently promoted Ligue 1 outfit Arle in France; let's hope for their sake it ends up a rather more successful spell for the towering striker than recent attempts in Europe, where his club career has been rather disastrous despite the worldwide media attention that followed his three crucial goals at Euro 2004.
In any case it's more of the same as far as Greek fans are concerned and without wanting to perform a victory dance, I must say I warned that we might see shades of Otto Rehhagel's approach in Santos in my last posting here and Charisteas' selection along with a few familiar faces might justify that claim.
Still though, it would be remiss to make judgements on Santos' approach solely based on personnel and the decision to call up Kone and Giorgos Tzavellas suggests he's got one eye on the future. Still, Charisteas' inclusion is a little perplexing – maybe Santos knows something about the striker we don't?
One certainty is that Sotiris Kyrgiakos' international career is over after he announced his retirement and wasn't picked by Santos in the aftermath and whilst he's an immediate loss, he was going to be 33 years-old if Greece qualified for Poland-Ukraine, so perhaps it's not a bad thing if we blood younger alternatives now.
Greece host Georgia in their first qualifier on September 3 before travelling to Croatia on September 7.
The foreign players called up by Santos:
Vangelis Moras (Bologna)
Sokratis Papastathopoulos (AC Milan)
Giorgos Tzavellas (Eintracht Frankfurt)
Theofanis Gekas (Eintracht Frankfurt)
Panayiotis Kone (Brescia)
Alexandros Tziolis (Racing Santander)
Angelos Charisteas (Arle)
Pantelis Kapetanos (Steaua Bucharest)
Giorgos Samaras (Celtic)
Subscribe

Greece World Cup Blog RSS Feed

Share
Comments are closed