June 17th, 2012 | by: nick |

View Comments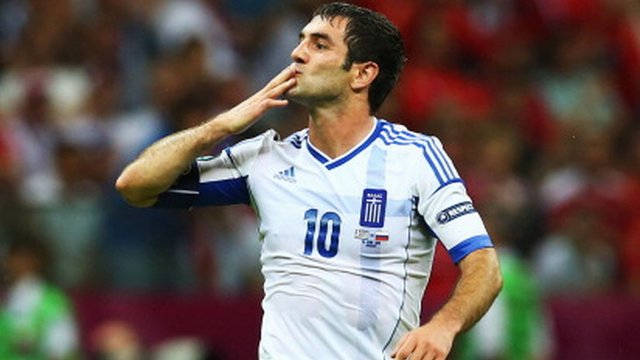 Group A's roller coaster has culminated with Greece progressing as runners up and the Czech Republic as winners. This was contrary to many predictions which had Russia going through at the top and the Czechs as runners up. Greece showed that the spartan fighting spirit amidst unfavorable standings pays off. Before the match it did not look like the the quarterfinals were a realistic possibility especially given a strong Russian team would play to win. But the team stuck together, stayed organized, Santos rang in the changes, and got the job done.
Lineup
Fernando Santos (or maybe one of his assistants) read this blog because the line up and formation today was the one I've been stressing since last October. As predicted, Santos made a few changes to the staffing on the field. Giorgos Tzavelas was brought in for Jose Holebas and Michalis Sifakis for Kostas Chalkias. These two changes made the difference as the two of the most vulnerable areas were adequately covered. In what was a smart move, Santos later brought on Holebas in place of Gekas to play on the left wing while Samaras moved into the center. Karagounis was also placed into the attacking midfield position, playing in a familiar area from eight years ago.
Formation
Santos also switched the formation from his usual 4-3-3 to a Spanish style 4-2-3-1. Along with the mentioned changes, the formation performed very well in closing Russia down and beating them at their own game. The return of Sokratis Papastathopoulos made a huge difference as he held the back line together. Although they didn't control possession (38% to 62%), the team made the most of when they had the ball and could have easily won this game 2-0 or 3-0. The goal took advantage of another Sergei Ignashevich concentration lapse, allowing Karagounis to latch on to a throw in, run down an open channel, and send the ball past Vyacheslav Malafeev.
Despite the victory and progress to the quarterfinals, Greece had problems in controlling the midfield. The Katsouranis-Maniatis partnership allowed Russia too many chances on goal. Gekas was not as effective as he should be and Santos correctly replaced him with Jose Holebas. With the increasing prospect of playing against Germany looming, the wings might be better manned by a creative players like Ninis or Fetfatzidis in order to create more scoring opportunities.
Best Moment
Minute 45+2: Giorgos Karagounis makes a run into open space after a throw in to give Greece the scoreline they need.
Worst Moment
Minute 61: Another piece of awful officiating as Karagounis is clearly brought down by Russian defender and receives a caution for diving.
Greece now march on to the quarterfinals where they have the possibility of facing either Germany, Denmark, or Portugal.
Create your ultimate
Fantasy Premier League
team and play the
Fantasy Football
game from The Sun
Greece Football Links