A view of the Greek Squad for South Africa 2010
June 11th, 2010 | by: nick |

View Comments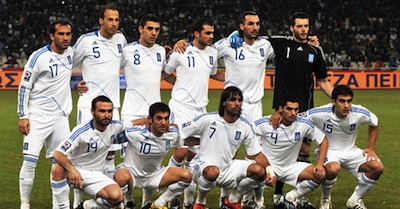 Hello all Greek fans, allow me to introduce myself. My name is Nick and some of you may know me as the writer in the Russia blog. Since Russia failed to qualify, I decided to apply my trade here. For those interested, I will still be maintaining and writing in the Russia blog.
I want to start off my first blog post by providing my thoughts and views on Rehhagel's selected Greek squad for the 2010 FIFA World Cup.
Goalkeeping
Formerly occupied and dominated by Antonios Nikopolidis, the goalkeeping position has been open since 2008. During the qualifying campaign, Rehhagel used Kostas Chalkias and No. 1. Chalkias has been in solid form but his age is beginning to show. However I do give him credit for winning second place with PAOK in the Greek Super League and getting to the semi final of the Greek Cup. His deputies are Michalis Sifakis and Alexandros Tzorvas. At club level, Sifakis is the first choice goalkeeper for Aris while Tzorvas has been rotated with Mario Galinovic at Panathinaikos. At the national team level both have had mixed results. Tzorvas was in goal for Greece's victory over Ukraine in the second leg of the World Cup playoffs but he had a very dismal performance against Paraguay which saw him completely out of position for both goals. Sifakis also had an equally dismal performance against North Korea.
I think that Rehhagel should keep Kostas Chalkias as his No. 1 goalkeeper but nominate different goalkeepers for the back up positions. Potential replacements could be Stephanos Kotsolis who won the Cypriot First Division with Omonia and Dionisis Chiotis of APOEL who was runner up in the same league.
Defense
The back line has been dominated by Giourkas Setaridis, Vengelis Moras, Sotirios Kyrgiakos, and Vasilis Torosidis. I think that this lineup worked really well as Greece's defenders are currently in peak form. The backups include Sokratis Papastathapuolos, Nikos Spiropolous, Avraam Papadouplos, Loukas Vyntra and Stelios Melazas. Papadopoulos had some very questionable performances in the qualifiers especially the last minute goal from Switzerland in Athens in October, 2008. As much as I think that this line up performed well during the qualifying stage, the absence of Traianos Dellas will be a blow in terms of experience. Even if he is a substitute he can inject experience into the squad as well as provide valuable cover for the starters. I also find it a bit questionable to take nine defenders as the extra spot can be used to take an additional forward or midfielder.
Midfield
Rehhagel selected a relatively small midfield of just six players. I think this midfield could use an extra player to provide some more width. Giorgos Karagounis has played on the wing before but since the retirement of Stelios Giannakopoulos and injury to Ioannis Amanatidis, I think Greece have lost the ability to dominate both sides of the field. I feel that Lazaros Christodoulopoulos should have been included to provide the width. The other choice of players was as usual with Christos Patsatzoglou being recalled after a years absence.
Forwards
Rehhagel chose five forwards, Georgios Samaras, Angelos Charisteas, Dimitris Salpigidis, Theofanis Gekas, Pantelis Kapetanos. I think this is a striking squad that has potential firepower but with plenty of room to improve. During the Greek Super League and the UEFA Champions League, I was particularly impressed with Kostas Mitroglou of Olympiacos who netted nine goals this season as well as a long range goal against Lyon. I think that Mitroglou provides provides youth and pace to the front line and was worthy of a place in the squad ahead of Gekas or Charisteas. In addition the absence of Ioannis Amanatidis not only a blow for the midfield but also the forward line. I have not been particularly impressed by the form of Gekas especially towards the end of the season.
Thats all I have to write for now.
Stay tuned for more posts about the Greek team this World Cup.
Subscribe

Greece World Cup Blog RSS Feed

Share
blog comments powered by Disqus