Greece three to the good against Luxembourg
September 8th, 2008 | by: Peter Katsiris |

Comments Off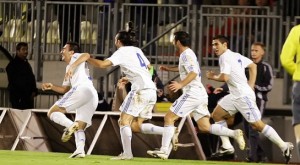 Greece's National Team kicked off their World Cup 2010 qualifying campaign with an away win over lowly Luxembourg on Saturday. Goals from Vassilis Torosidis, and Bundesliga duo, Theofanis Gekas, and Angelos Charisteas, paved the way to a Greece win. With the victory in Luxembourg, Greece claimed top spot after matchday 1, while also extending their undefeated streak to seven wins against Luxembourg.
There was little doubt that Greece would be unsuccessful on this night, but Luxembourg was determined to keep Greece close. The match was kept scoreless until late in the first half; however, Greece finally found its stride when Vassilis Torosidis – usually the provider in these situations – headed in a cross from Charisteas. Managing to create room, the leading goal scorer for Greece at EURO 2004, found the Olympiacos defender with plenty of room in front of goal as he was able to head the ball past goalkeeper Jonathan Joubert.
Bayer Leverkusen's Theofanis Gekas when the former Bundesliga leading scorer capitalized on several errors by the home side, and rolled the ball past a lost Joubert. A poor attempt to clear the ball led to the Gekas breakaway, and he made no mistake as he rounded the keeper before tapping the ball into the gaping goal.
It was Gekas who troubled the home side again in the second half. The former PAO player weaved through the defense, until a tackle from Eric Hoffmann brought down Gekas but gave Greece the reward of a penalty. Charisteas took the chance from the spot, and the Nuremberg striker easily placed the ball for Greece's third goal on the night.
In other matches, Switzerland was held with Israel 2-2 in Ramat Gan; while Latvia edged Moldova 2-1 in Tiraspol.
Latvia is up next for Greece, who travels to Riga for Wednesday's encounter. For Luxembourg, another stiff test in Switzerland could see the former fall to another defeat. In the group's remaining Wednesday fixture, Israel looks to rebound against dark horses.
Luxembourg 0-3 Greece
Torosidis 36', Gekas 45 + 2', Charisteas 77'
Yellow Cards:
Luxembourg – Leweck 23', Lombardelli 29', Kitenge 69', Hoffmann 75', Strasser 82', Lang 89'
Greece – Katsouranis 70'
Luxembourg (Guy Hellers): Joubert, Kintziger, Payal, Hoffmann, Peters, Strasser, Bettmer, Leweck (58' Da Mota), Lombardelli (69' Lang), Mutsch, Kitenge (80' Lang).
Greece (Otto Rehhagel): Chalkias, Seitaridis, Torosidis, Kyrgiakos, Dellas, Basinas (46' Salpingidis), Katsouranis, Liberopoulos (66' Patsatzoglou), Charisteas, Karagounis, Gekas.
Subscribe

Greece World Cup Blog RSS Feed

Share
Comments are closed