Greece: A not so friendly place for England anymore!
September 9th, 2009 | by: Peter Katsiris |

Comments Off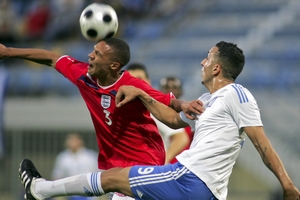 The many islands of Greece are an easy lure for many English tourists, but Stuart Pearce's U-21 might not be interested in returning to Greece for some time now after a lucky 1-1 draw with their Greek counterparts in Tripoli on Tuesday.
After opening up their campaign with a win on Friday over F.Y.R.O.M, England failed to grab another set of three points in Greece, as Nikos Nioplias men kept their grip on first place intact by extending their ubeatean record after three matches — a streak that includes prior wins over F.Y.R.O.M and Lithuania.
An early goal from Daniel Sturridge got England on their way, but Greece levelled before the half through starlet Sotiris Ninis.
Olympiacos CFP prospect Konstantinos Mitroglou really should have won Greece the game, but both times the 21-year-old failed to net.
While the result should have been a win, but still a draw is okay I guess, the more impressive entity of the game was the exciting tempo of play displayed by the Greeks. Previously playing against lesser opposition, Greece's first test against a reputable team in the U-21 scene saw the likes of Ninis, Mitroglou, Vasilis Koutsianikoulis, Ilini Dimoutsos really shine.
You can see a full match report here.
Subscribe

Greece World Cup Blog RSS Feed

Share
Comments are closed